Greetings :
Viewing trouble?  Please click the "View Online" link above.

Well, not a heck of a lot of rain this week, but certainly better than no rain. A welcome site to see rain on Sunday and Monday so hopefuly a little wetter winter is coming our way soon. The rest of the week looks great for cycling until Sunday with a possibility of showers then. I won't be holding my breath since the last 8 out of 10 forecasts for showers never materialized. It is cooling down finally. I think this Saturday's ride just might be the first bootie ride for me since last fall.

The shot here is at the top of Summit Road, between Bear Creak Rd and Hwy 17. A beautiful early morning start to a great road ride.

Those of you with ball & cone wheel or headset bearings might want to think about having them serviced before the wet weather gets here. Running these types of systems tooo long can result in bearing race destruction. Not a huge deal for headsets, but can be catostrophic for older or less expensive wheel hubs. This means you could be throwing away a set wheels because the hub bearing races are toast. If you have a ball & cone crankset...well, you probably don't ride in the rain anyway. :)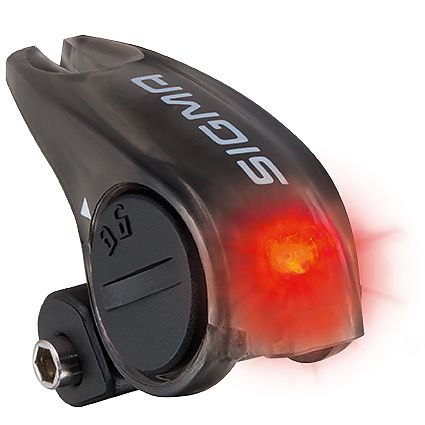 Product News

Cool product intro this week, Sigma has a nifty tail tight setup that installs on most rear brake calipers and acts like a car or motorcycle brake light. A brilliant idea! At only $10 and 7g, it's likely to be very popular. I can sell these so let me know if you want to give one a shot. I'll order one soon and report on the install, build quality, and overall performance. By it from me and get free shipping!

Velocity USA is still "wheeling & dealing" with some nice pricing on wheels, rims, and accessories this summer and fall and are now promising to ship custom-built wheels withing two to three days. Very aggressive pricing available to my customers on their

Road Standard

,

A23

,

Touring Standard

, and Standard Disc wheelsets. Oh, and also the

Blunt 35 All-Mountain

wheelsets.
Actually, great deals on any Velocity wheelset, rim, hub, or accessory you need. All Velocity wheels are warranted against defects in material and workmanship for the life of the product. All newer hub systems upgradeable to 11-Speed.

This shot was taken in Wilder Ranch just off of the UCSC Connector Trail heading towards Wagon Wheel. Beautiful day for some off-road action last Sunday.


Hawk Racing Wheel Deals
Hawk is blowing out most versions of their 2015 full carbon tubulars while supplies last. If you're looking to go faster in cross or road in 2016 these are the ticket. Special pricing for qualified MyTeamCar.net customers on 38, 50, and 85mm Stratus X sets at $895 including shipping.

INDUSTRY NEWS:
Velocity-USA has been shipping a new disc-based road wheelset called the Aileron. Yea, I know, it's expensive to go discs since you need a frame and fork that supports it. However, those of you looking to build a new bike or have a disc-ready frame and/or fork, these wheels are the ticket. Priced at under $1K retail ($795 for Comp version) and sporting a stiff and wide 25mm alloy rim with Sapim CX-Ray spokes and alloy nipples.


At just under 1600g for the set, they are a great choice for an all-arounder wheelset with awesome durability even for the monster riders out there.


Of course, your typical discount applies to the retail prices on both models of wheels. I can also build a custom set for you using the Aileron rim or any other rim compatible with the disc hubs. I think my next project just might be a disc-based road rig. Keep in mind, this type of road rig is actually a ready-to go cyclocross or trekking bike by just swapping tires and maybe cassettes.


My Parts Express store is still kinda clunky but please give it a look and let me know what you think. Parts Express Some of you already have accounts on the site so just log in or request a password reset if you don't recall. Your user name is the email address you used to create the account. Doing so will also allow you to update your service profile, contact information, and see your discounted prices.  
If you don't see what you want, browse my suppliers below and I'll order it:  
Cane Creek | Smartbikeparts.com | BTI/USA | Hawley USA | J&B Importers | Hawk Racing | iBike Sports
Velocity Wheels | Easton Cysing Products | Wahoo Fitness | SeaSucker | IceToolz

eBay Items
I've been selling used and new items on eBay so keep that in mind when you're looking for parts, wheels, bikes, or clothing. Right now I have my track bike and some solid Cane Creek training wheels at bargain prices. I'll be putting up some hardly used racing carbon tubular wheels soon. Check out my eBay collection. Yes, you can avoid eBay shipping and get 10% off by buying directly from me. I'll deliver free! 

Wahoo KICKR's seem to be back in stock so lead-time is back to normal, about 7 days. I can't justify spending that much money on a trainer, but they are pretty awesome for those who have real jobs and can't get out to ride. You can go buy one locally or online but buying from me gets you a better price and much better support, of course. MyTeamCar.net is also an authorized Wahoo Fitness dealer. Those of you looking for the latest in indoor trainer technology, the Wahoo KICKR is amazing. 
I'm placing my usual supplier orders soon. Please let me know if you need anything not currently available via Parts Express. I have many items on-hand and I can deliver very quickly. I tend to carry tubes, tires, chains, cassettes, bar tape, bearings, brake pads, and other common consumable items in my vehicles. So that kind of stuff is always available fast. Just let me know what you need or order on my site and I'll get it to you ASAP.
REMINDER: If you ever have any issues with your bike after I service it, please call/text/or email me ASAP. I'll find you and get it fixed as quickly as possible. Stuff happens. Part of the value of my service is that you don't have to return your bike or wheels to a shop. I will come to you, no-charge of course.
Again, don't forget about my Spot Tune-up Service. This is a cheap and convenient way to keep your bike rolling smoothly and efficiently. I find you and dial-in brake and shift cables and take care of any minor issues that can be resolved onsite. Only $30 and extremely convenient.
PLEASE NOTE: MyTeamCar.net customers enjoy competitive pricing from all my suppliers. The list prices shown on my site are not necessarily what you'll pay. If you know that the price is higher than your local dealer or favorite online retailer, just shoot me the link and/or let me know. I will match any reputable price out there. I can usually get just about anything. If you need things quickly, just mention the specifics. I can get most things in my hands overnight, next-day, or two-day, it just costs more for shipping. And, yes, you will receive tracking info as soon as I receive it. 
Okay, shut-up and ride!
Schedule Service
Company News
Yep, I can now offer product from Cyclone Bicycle Supply out of Portland, OR.
Weekly Spotlight
Check out my eBay Collection!

Latest Bike Build
Well, more of a rebuild and upgrade...
Latest Wheel Build
Damaged Specialized/Alex rim replaced with Velocity Blunt SL.
Stuff For Sale
Very clean and fast Langster track rig. Very lightly used and in excellent condition.
Snugg iPad 2 Squared Skinny Fit Protective Case Cover in Black.
A very strong and lite road or cyclocross wheel set. Not very well used and in great condition.